Optician Development Program
The Optician Development Program is a work-study educational program that teaches new opticians the fundamentals, prepares them to take the ABO and NCLE certification exams, compliment apprenticeships (in certain licensed states), and prepares opticians for career success.
High quality training with interactive content for an engaging experience.
Complete the training in approximately 2 years.
Affordable cost with financing options.
Classroom instruction from the comfort of your home with accessibility on all devices: desktop, smartphone, tablet.
Support from our team with dedicated office hours to supplement Sponsor training and guidance.
Over 400 media elements including animation videos, instructional videos, illustrations, and more.
Plenty of practice questions and quizzes to test your knowledge and keep you on track.
Continually updated to offer the latest information in the field.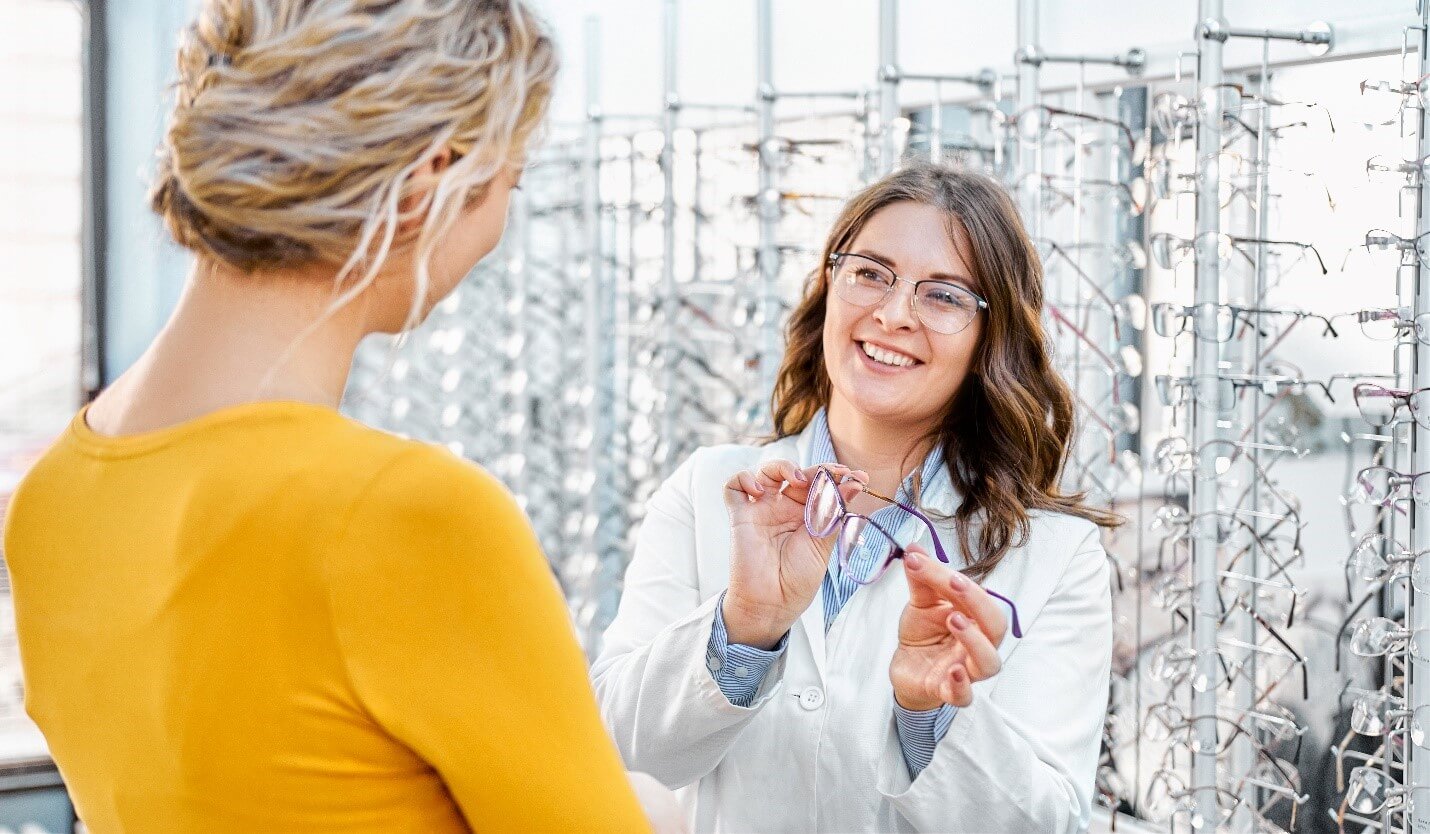 Why OTI

30+ Years of Optical Education Industry Leadership
Optical Training Institute has served the optical community with high quality, affordable education solutions for over three decades. With a commitment to excellence in both optical knowledge and instructional design best practices, OTI has served tens of thousands of students.

Customized Learning Environment
The program is built on a premier learning management system (LMS) and is accessible on all device types. Easily log on to any device to review content, track progress, take quizzes, and request support. The modular based program includes many engaging and motivational elements which research shows is critical for success in extended online learning programs.

Quality Materials From Subject Matter Experts
We provide high quality training written by subject matter experts and guided by the latest instructional design and educational research. We pride ourselves in offering education courses with a student pass rate for the ABO and NCLE exams that well exceeds national standards.

OTI Support
The program is backed by our team, which offers daily support and dedicated office hours to supplement Sponsor training and guidance. We're here to help you be successful!

Large Array of Multimedia Content
With over 400 media elements, the program is complementary with all learning styles and is highly engaging for the student. Content includes illustrations, 3D animations, instructional videos, challenge videos, reviews of difficult concepts, exam tips and quiz question rationales.

Variety of Quizzes
Throughout the program are quizzes with a range in number of questions depending on the amount of content just learned. Progression quizzes are placed strategically to test you on content that was learned anywhere from recently to months prior. Additionally, there are final exams at the end of the three sections that are formatted similar to ABO-NCLE exam standards.

Scenario Based Training
The content includes plenty of real life scenarios that may be encountered in your role. Since the program was developed by working opticians with years of experience, we are confident that the program covers common optical interactions.

Easy Access
Once the program is purchased, it can be accessed on any device (desktop, mobile, or tablet) with an interenet connection.

State Board Approvals
We've worked with certain state boards to gain approval for our program as an educational program that can supplement apprenticeship programs. Click the link below to find out if the program is approved in your state.
LMS
The program is built on an industry leading learning cloud-based management system (LMS) and is accessible on all device types. The learning portal improves accessibility for students who often prefer to learn in both bite-sized sprints on mobile phones or tablets as well as longer sessions on laptops or desktop computers. With the ODP learning portal, students can access content and learn in any of these modalities. Students can login on any device to review content, track progress, view media files, take quizzes and request support; all from one easy to use digital platform.
The learning portal provides sponsors / mentors and the OTI team visibility into each student's performance. Sponsors and the OTI team can also track a student's progress and run reports to identify where students may need additional support.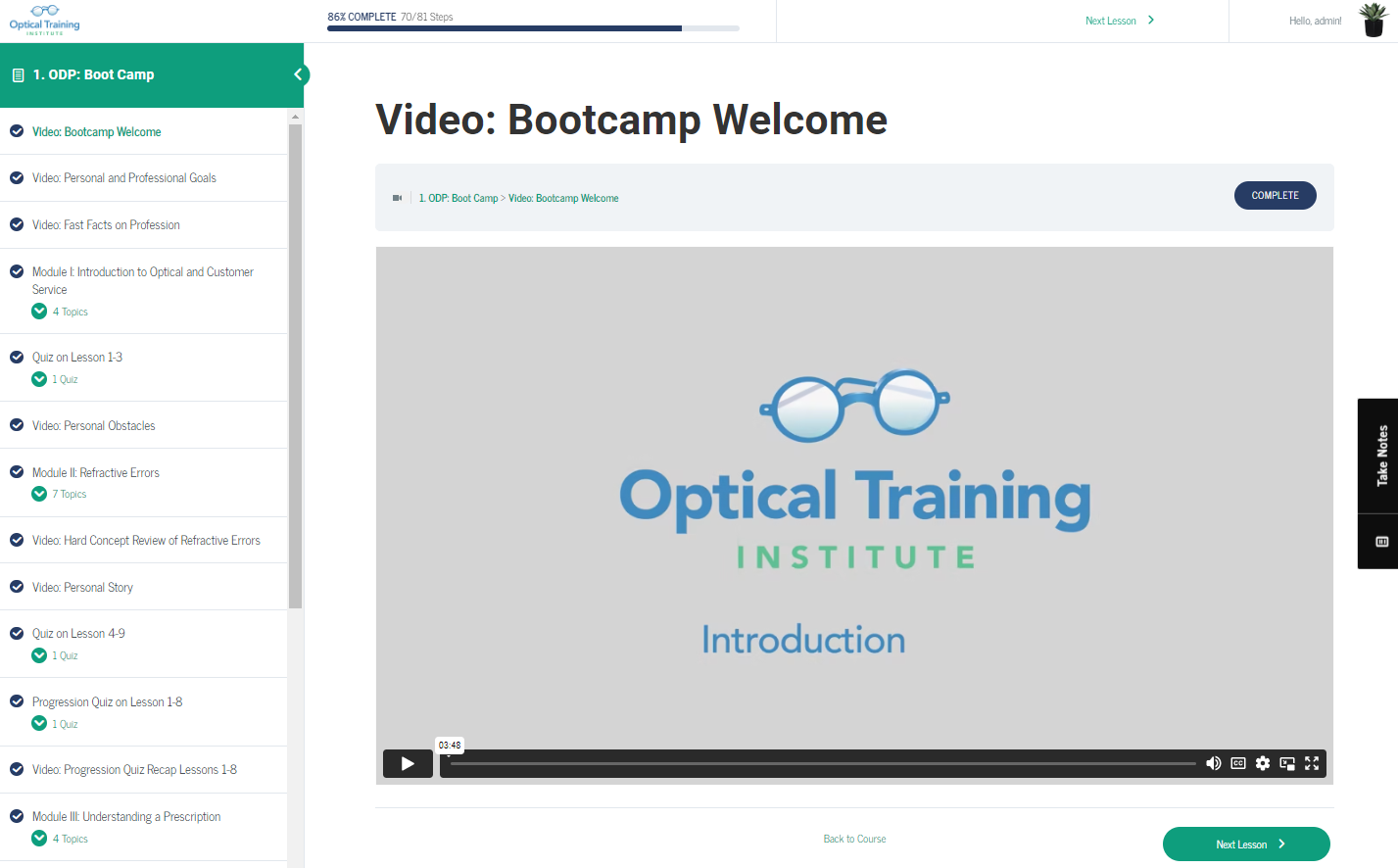 What's Included
This Optician Development Program provides you with the technical knowledge you need to pass both the ABO and NCLE examinations. It will also provide training on ophthalmic elements that will augment your performance as an optician. The program is designed to enhance your optical journey and prepare you for a successful career in the field.
You will feel comfortable and confident when working with your patients and fellow team members. You'll have a better understanding of many optical concepts to improve your skills in the field.
As you progress through the courses and become prepared to take the exams, you will feel ready and assured. In addition to extensively covering the content needed for both exams, the program offers helpful tips on taking the exams.
Opticians with all types of experience are welcome! The first section of the course, the Bootcamp, is designed to provide an initial foundation to get a new optician up to speed quickly or provide a helpful refresher for experienced opticians.
As this is a self-paced course, you will have the freedom to study on your own terms. Sit down at your desktop for a 2 hour long session or access from your phone for a quick 15 minute session. Our learning platform allows you to easily pick up where you left off.
Our mission is to offer comprehensive, quality training well suited for all learning styles. Motivational elements are strategically placed in the program to keep you motivated and excited to continue.
The program thoroughly covers the technical aspects of your role as an optician and provides explanations to not only prepare you for the exams, but also become a proficient optician. Our goal is for you to be comfortable and confident at your optical practice.
By the end of this course, you will be able to
understand the anatomy and physiology of the eye and how it impacts eyewear.
effectively communicate with patients, other staff members, and outside vendors.
have the foresight and understanding of the finished eyewear product to accurately sell to your patients
understand the elements and functionality of various ophthalmic instruments to better assist you when you need to use them in person.
troubleshoot a variety of patient eyewear complaints.
know the state and/or federal laws that pertain to you in the optical field.
properly train and educate your first time contact lens wear patients on insertion and removal.
have an understanding of inventory and office management.
be knowledgeable of contact lens contraindications for the successful fitting of contact lens patients.
The program is divided into three main sections, with each section including 6 or 7 modules. Within each module are the lessons, quizzes, and videos.
The first section is the Bootcamp, which is a quick-start course to hit the ground running. It serves as an introduction to the optical field and an optician's role.
The second section is the Spectacle Course, which serves to prepare students for a successful career in ophthalmic dispensing. Additionally, the course is a thorough preparation for the National Opticianry Competency Exam offered by the ABO.
The last section is the Contact Lens Course, which serves to prepare students for a successful career in contact lens dispensing. Additionally, the course is a thorough preparation for the Contact Lens Registry Exam offered by the NCLE.
Multimedia Content
Throughout each course, the program includes a variety of interactive content to keep the student engaged and motivated. Content includes illustrations, 3D animations, instructional videos, challenge videos, reviews of difficult concepts, and quiz question rationales. ABO and NCLE exam preparation and test-taking tips are covered as well.
All interactive content is strategically placed to motivate the student and build excitement for future coursework and a successful career as a certified and/or licensed optician.
FAQ
Do I need to have optical experience to enroll in this program?
No, you can take this program with no optical experience! Our Bootcamp course will bring you up to speed quickly to prepare you for the more intensive coursework in the Spectacle course. It is recommended that the program is taken by individuals working in the optical field so the technical knowledge learned can be applied to the practical training in the workplace.
Is the program approved for any portion of my apprenticeship program hours?
Please contact our team to learn if your state has approved the Optician Development Program to supplement your apprenticeship training.
What makes the Optician Development Program different?
Optical Training Institute has been a trusted industry leader for over 30 years and has helped many opticians improve and grow in their careers. The Optician Development Program was created because we received feedback from employers and individual opticians that there was a need for high quality, affordable training with easy accessibility. The program has a strong learning pedagogy approach based on academic research alongside material written by subject matter experts working in the field. We are excited to assist opticians in their career development and help improve the optical community.
We Are Here To Help You Be Successful
Optical Training Institute offers support when you need it. Reach out to us through the LMS, by phone, or by email and our friendly team of subject matter experts are happy to help.
(949) 551-5455
Mon-Fri 9am-5pm EST
See For Yourself What Others Are Saying
"[The ODP] teaches not only facts and formulas, but the underlying concepts of opticianry. What is the root of these concepts? How do they relate to each other and to the daily practice of the profession?"
"The authors were diligent in ensuring that course information is thorough, accurate, and easy to understand."
"…I truly believe that this program will provide opticians the solid foundation that they need in order to build long-lasting and successful careers."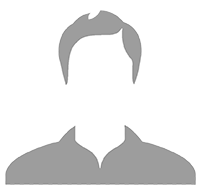 Justin Mathias
"The program is great for opticians learning about the profession and expanding their knowledge for their career."
"The content is easy to follow and understand."
"This is a great program that will help so many people grown in their career."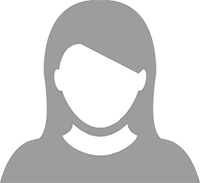 Dr. Eilene Kinzer
Grow Your Career as
an Optician!
Our program makes becoming a skilled and successful Optician easier. We cover everything you need to know so you can pass the ABO-NCLE examinations and gain credibility in the workplace.
Access at any time - Go at your own pace.
Easy to follow with quality content.
Affordable education from the comfort of your own home.
Feel prepared and assured when taking the examinations.
Feel confident when working with patients and team members.
Over 400 media elements including animation videos, instructional videos, illustrations, and more.
Become certified/licensed for an advancing career with job security.